Hats &
Tunics
The knitters of the Co-Operative knit by hand four different styles of caps. All our caps are made with the heavier weight yarn for added warmth. While these items are not made in village patterns, their designs are unique to each particular item. We are usually able to accommodate any head size.
Tunic, open on the side with a belt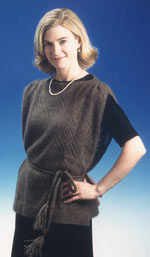 The Tunic, which comes in sizes from extra small to extra large is knitted by members from all of the villages. We recommend that, if you are unsure of the correct size, you provide us with a standard dress size.